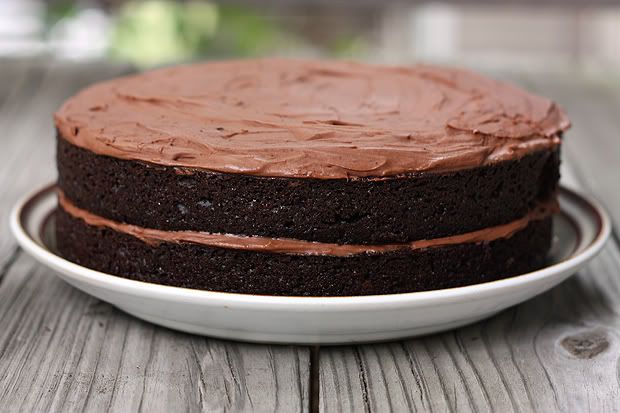 I'm a total baking novice. I've never made a double layer cake before, and I don't really understand the difference between buttermilk and normal milk. I do, however, know the difference between a good cake and a
really really freakin' amazing
cake
(that you would happily elope with. just kidding. but you'll probably want this cake to move in with you.). And that's what this is. Pure chocolate deliciousness-- sweet creamy frosting and rich, moist cake. And if I can make it, anyone can.
This is an ever so slightly tweaked version of
this recipe
I found on
My Missouri Kitchen
.
For the cake you'll need:
2 cups white sugar
1 3/4 cups white flour
3/4 cup unsweetened cocoa powder (I used Trader Joe's)
1 1/2 teaspoons baking powder
1 1/2 teaspoons baking soda
1 teaspoon salt
2 large eggs
2/3 cup milk (I used 2%)
1/3 cup heavy whipping cream
1/2 cup vegetable or canola oil (I used canola)
3 teaspoons vanilla extract (I used Mexican vanilla)
1 cup boiling water
Preheat the oven to 350 degrees and grease two 9 inch cake pans.
In a large mixing bowl combine the sugar, flour, cocoa powder, baking powder, baking soda, and salt. Mix well. Add the eggs, milk, cream, oil, and vanilla. Mix well (I did the mixing by hand, but you can also use a mixer!). Stir in the boiling water; you have to mix everything for a minute or two for it to combine with the cake batter properly. The mixture will become quite thin.
Pour mixture into the prepared pans (2/3 of the way to the top of the pan) and bake in the oven for 35-45 minutes, until a toothpick inserted in the center comes out clean. Cool completely before frosting.
*I had a little extra cake batter at the end, so I made a tin of mini cupcakes with it! They're really tasty frozen. They only took about 10-15 minutes to cook.
For the frosting you'll need:
Six tablespoons butter, softened to room temperature
3 cups powdered sugar
1/2 cup cocoa powder
1/2 cup heavy whipping cream
1 1/2 teaspoon vanilla extract
In a mixing bowl, combine all ingredients and beat with an electric mixer. If icing is too thick, add a little more heavy cream. This will be enough to generously frost the top and center of the two layer cake, along with 12 small cupcakes. If you want to frost the sides of the cake, double the recipe. Extra frosting can be stored in the freezer.