Happy October, lovelies!! I hope you're all as excited for crisp, colorful leaves, chill air, quirky costumes, and spiced pumpkin lattes as I am! Today I finally got to wear tights again. Nothing could have made me happier.
Tuesday night my roommate found a cockroach in our bathroom, resulting in much screaming while herding the offending beast into the toilet. Gross! Before the cockroach incident, I went to Los Loros—a cheap, decent Mexican restaurant—with some girls in my sorority. I ate way too many chips!
My excessive encounters with food seem to be a common theme to this blog. Self control fail. Speaking of which, these rhubarb oat muffins
look seriously awesome. Oh, and how adorable is this darling ruffle necklace in cream? Um. Yea. Kinda wantwantwant.
If you've never read it, check out the blog Le Love; "dedicated to love. the good, the bad, the unknown". There are some truly amazing stories on the site, and the most delightful pictures!
I'm currently obsessing over this J.Crew bag
. The straps of my favorite Old Navy school tote have started to rip (curse you, cheap ten dollar fake leather), and I'm desperately looking for something else (that I can actually afford). While we're talking about expensive things I love and can't purchase, take a look at this simply elegant dress
.
I'm so glad this week is over. Way too much work! This weekend my field hockey team is playing in a tournament at University of Tennessee, which will be nice. Other than that, just lots of homework and studying to look forward to. However, fall break is coming up, and I'm SUPER EXCITED. My mom is coming down to visit, so we'll get to do some fun stuff in Atlanta, have some mommy and me time, eat crazy amounts of food, and, of course, go shopping! Hopefully there will be lots of fun pictures her visit that I can share with y'all!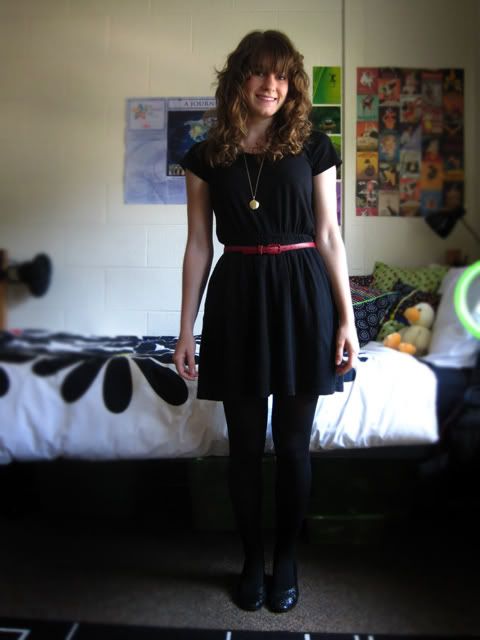 ( dress – old navy / shoes – trotters / necklace – j.crew / belt – vintage / tights – unknown )
Thursday night I got something super awesome in the mail! I'm not sure how many of you read Keiko Lynn's blog, but if you don't you should totally check it out! She's got one of the loveliest styles ever; vintage, layered perfection, with lots of sweet little skirts, dresses, heels, and fantastic photographs! Plus, she's seriously talented: she has her own clothing line, postlapsaria, and I've never seen anyone with such flawless makeup. She and Havaianas hosted a giveaway, and I won! I got a pair of the slim sandals in navy blue, and even though its fall I'm crazy excited to wear them.
What are you looking forward to for October? Any Halloween costume plans yet? I'm looking for ideas!! I hope you all have a fabulous weekend!
time & confusion - anberlin