On Thursday I went out to eat with my cousin, aunt, and my cousin's fiancé's parents. We ate at this delicious restaurant in Atlanta called Ecco. It was a tad noisey, but the food was phenomenal (and not
too
pricey)! I got chili-braised pork with garlic and homemade pappardelle, along with a fennel and onion salad. For dessert I had sugar and almond ice cream, which was super tasty. My cousin got the most fantastic appetizer: fried goat cheese, honey and black pepper. They also had olive oil ice cream with sea salt and chocolate in it. How awesome is that?
Friday, before class, I went to breakfast with my aunt and cousin at this sweet little place called Rise and Dine. It was nice to talk in a smaller, quieter setting as we consumed pancakes with nutella, whipped cream, and bananas. Yum! We also got a serving of grits with quinoa and sage; I think I would have loved it if there hadn't been any sage. I promise I'll try to start bring my camera with me when I go out! Friday night I went to a party for the club field hockey team, which was crazy fun. Let's just say that never have I ever + jello shots = best stories ever.
Anyway, now that you all have a good idea of what a fatty I am, here's some fun stuff: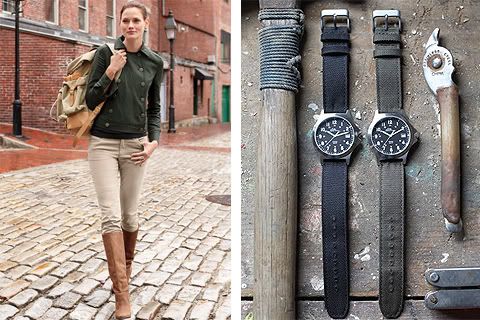 Today I (re)stumbled on the L. L. Bean Signature Collection. It's all so perfectly functional, chic, and expensive. Oh, if only. Above are some of my favorite items; how wonderful is the little backpack on the left?? A touch of military, utilitarian chic. Apparently it's "perfect for padding quietly through the solemn cool of old-growth forest" (no, I did not make that quote up). I'm totally crushing on vintage field watch featured on the right.
I found the most adorable online magazine article entitled "A Matter of Taste", which is a collection of clothing made from food. It's clever and fun and you should totally check it out! Aren't the eggplant flats above just the cutest thing you've ever seen?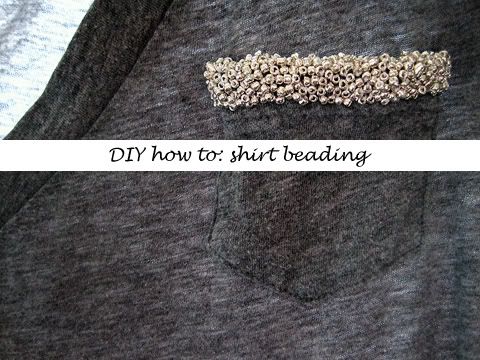 Also, here's a little DIY on shirt beading! You can see another post about this here. Above is the finished result.
Shirt/Tote/Whatever You're Beading
Beads (small enough to fit through your needle)
Thread (same color as your shirt)
Here I beaded the top of a shirt pocket. It's really easy, but if you're doing something that takes a lot of beads it's also going to take a long time to do. I found a pretty good tutorial here. If you try it and need more help (or want to show me how your project came out), drop me a comment or an email! Below are a few pictures from the process:
Saturday and Sunday are going to be a bit crazy. I'm presenting a running club proposal to the Sports Council at my university and hosting a movie night (Ferngully!), and on Sunday I'm going to Clemson for a field hockey game! What are you plans for the weekend?
Also, thank you all for the wonderful wonderful boy advice on my last post. Y'all had such great advice, and I can't wait to give it a try! I feel so much more accountable, having written this. I'll certainly let you know how it goes! An extra shout out to all of my new followers, as well. Y'all rock!! Thanks for reading!