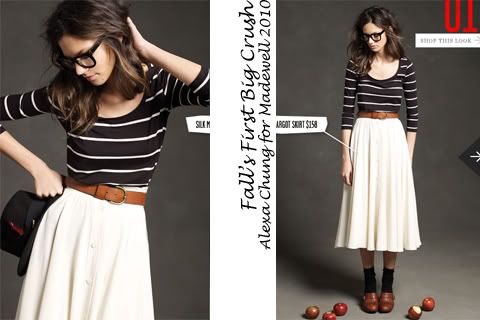 I'm practically obsessed with the outfit above. Classic autumn with a hint of geek chic. Oh, if only I had lot of cash to burn. I'm also totally crushing on this "Loose Knot" hairstyle for fall! Isn't is just adorably cute, clever, and, best of all, simple?
Life is a little crazy this week. Between classes, tests, and meetings I'm also rushing Gamma Phi Beta sorority at my school. I'm totally not a stereotypical sorority girl, but I know a few people in this chapter and they're all super sweet. I figured if it works out it would be a great way to get more involved on campus! I'm attending four of this week's six rush events. Last night we went to Figo, a casual Italian restaurant in Atlanta. It was so tasty! I got whole wheat fusilli pasta with siciliana sauce (diced eggplant, fresh mozzarella and basil in tomato sauce topped with shredded ricotta cheese). It was nice to get to know some of the girl in Gamma Phi, and to meet some of the other people rushing. Tonight I'm going to Gamma Phi Beta Philanthropy Night, where we're going to learn about their philanthropy and do a fun craft. I'm totally psyched! I'm also attending a short meeting for anthropology majors, because I just declared, so it will be fun to meet the anthropology department at my school, as well.
Yesterday's outfit for "Dinner at Figo" rush event:
( shirt – gap / skirt – french atmosphere / belt – steve madden / shoes – trotters )
My roommate and I hosted a movie night on Saturday, during which we watched the 1992 film Ferngully: The Last Rainforest. The plot similarities between Ferngully and Avatar are striking, and if you feel like watching a 90's throwback I totally recommend this movie! If Robin William's scene doesn't make you want to see it, I don't know what will. On Sunday my field hockey team had a game at Clemson. It was crazy hot, and we tied 0-0, but I think we played pretty well for our first game! Bonding with the team on the way there and back was totally fun, too.
What are some clothing lines you're super excited about? What are your top "must haves" for fall? I'm totally coveting a nice pair of leather boots, simple skirts in falls best hues, and some oversized sweaters!