Thank you all for your sweet sweet comments! I can't even tell you how much of an inspiration you all truly are, and I love visiting your blogs!
Things have been slightly insane, with packing for college and all. In the midst of everything, I was rummaging through the attic and found a box of my grandmother's old clothing. Most of it, unfortunately, is unwearable, but I did find the most darling skirt, which is over fifty years old! However, it was all ripped up and crazy long, so my mother (being the saint that she is) was kind enough to cut off the top and bottom and add some elastic. Low and behold, a brand new skirt was born. I felt so urban renewal (yes, the UO line) esque in this! I wore it today to visit my grandmother, and she got quite the kick out of it. We had fun discussing the adventures she had with my late grandfather while wearing it!
(tank – old navy / skirt – vintage remade / flats – trotters / belt – vintage)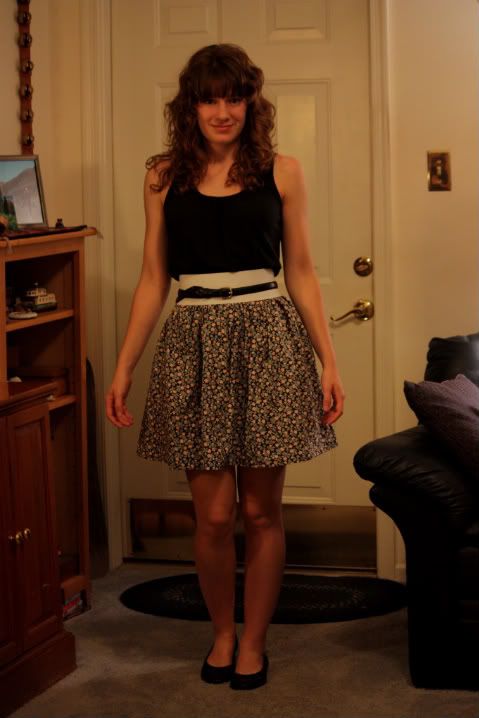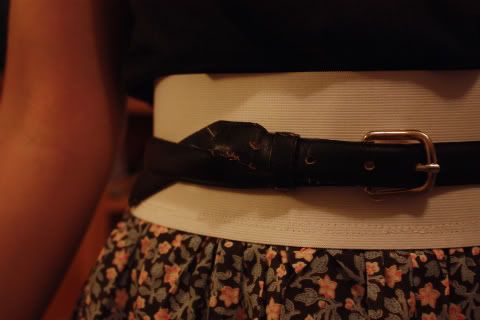 Last post I mentioned my funny feet the other day, so I figured I'd do a quickie explanation. I ran track in high school, and my freshman year of college. I wasn't half bad; I managed to crank out a 5:27 mile and a 2:27 half mile. Unfortunately, my body wasn't exactly made for the sport. I'm pigeon toed and my hips are inverted (whatever that means), and thus had to quit track after a series of never ending injuries. To help me walk more normally, I have to wear specific types of shoes; notably, those with arch supports (think Birkenstocks) and totally stiff soles. The good news is that I've found some cute ones! The bad news is they're always expensive, so I have very few pairs and am constantly wearing them all. Occasionally, I do wear my old not-good-for-my-feet shoes, though! The pair pictures above include one of those "approved" shoes, which I just bought for fall, and I think they're super cute! And yes, I do still run. Albeit slowly.