Today, y'all are going to learn how to make tie-dye super crayons! And please, if you can think of a better name, post it! Mine's kinda melodramatic.
Anyway, I'm super excited about this post! It's the first diy project that I'll be talking about on the blog, and I'm totally in love with how it turned out. Every year I make my good friends something homemade for Christmas; once it was bath salts, once it was beeswax chap stick, and last year it was scarves (25+ scarves in less than two months was INSANE). I was browsing say YES! to hoboken (which, if you've never seen it, is adorable and you should check it out!) when I spotted this "toddler crayon project" . I figured that this was a perfect low budget gift to make and give all of my college friends, since you're never too old to color with the most amazing crayons ever. I decided to do the project well in advance, so I'd have it ready come winter. I know, I know. I'm insane, but I can't even fathom trying this in a dorm kitchen.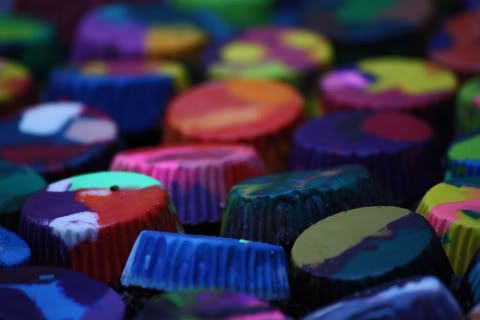 Cupcake holders/wrappers (optional)
Oven (preset for 450 degrees)
For the project, I got a few big boxes of crayons from the dollar store, and some Christmas cupcake holders (because they were cheap, not because I was feeling very festive in August). Basically, I took all of the crayons and used a knife to slice off the little wrappers. I then took the "naked" crayons and used my fingers to break them up into little sections, which I placed into cupcake holders inside a cupcake pan. You can just place the crayons into the pan itself, without the cupcake holders, if you'd like.
Once I had filled the pan, I placed the crayons into the oven, set at 450 degrees , and left them until all the crayons were melted. The melting crayons smoked a lot, which was creepy, but they turned out super well!! You can see the finished products above (the first three pictures). I LOVE them. Seriously. I'm packing up three to five each in little clear baggies, with name tags and ribbons. If you have any questions, feel free to post away!
In other news, college packing continues (although I did take a break this evening to go Goodwill hunting and ice cream munching with my good friend Amanda). My room is officially in complete and utter disarray. Yikes!! I leave for Georgia on Friday; 13.5 hours of carcarcar. What is your favorite thing to do on road trips? How do you like to pass the time?
Ride A White Horse - Goldfrapp