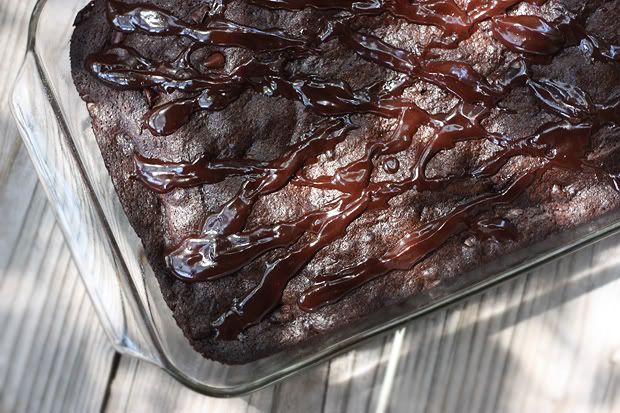 I'm a huge fan of brownies. Delicious warm gooey chocolate-y goodness? Well, okay. I made these for an Emory women's rugby party this weekend and they were a hit!
This recipe is 100% homemade, sinfully easy, and super cheap to make! I slightly adapted a knockoff "Betty Crocker Fudge Brownie" recipe by
Fake-it Frugal
, so the total cost of the recipe should (supposedly) be somewhere around .30-.50 cents. And that's pretty darn
sweet
.
You'll need:
2 cups white sugar
1.5 cups white flour
2/3 cups cocoa powder
1/2 tsp salt
1/2 tsp baking powder
3 eggs
1 cup vegetable oil
1/4 cup water
3 tsp vanilla extract
Chocolate chips (optional)
Heat the oven to 350 F and grease a 9x13 inch pan.
In a large mixing bowl, combine the dry ingredients: sugar, flour, cocoa powder (I used 1/3 cup "dark" cocoa powder and 1/3 cup "light"), salt, and baking powder. Mix. Add the eggs, vegetable oil, water, and vanilla extract. Mix well. I added about 1/2 cup of semi-sweet chocolate chips, but that's totally optional!
Place in the oven. Bake for 25-35 minutes (mine took 33 minutes, but I recommend a little less time so they're gooey-er!).