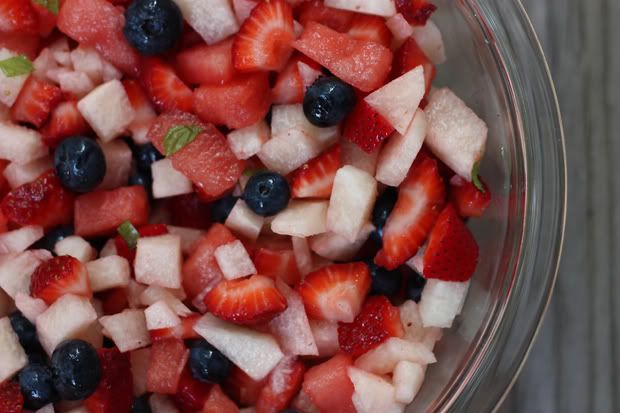 I was recently inspired by a fabulous looking
blueberry, strawberry, and jicama salsa recipe
to create this yummy red, white, and blue fruit salad. It's the perfect way to use some of summer's best produce to create a light, refreshing side or dessert. The best part? It's super easy to make, but sounds, looks, and tastes kinda fancy!
You'll need:
Equal parts jicama, strawberries, blueberries, and watermelon* (I used about a half cup of each)
Three key limes or one regular lime
Fresh mint leaves
*I used the ingredients I had on hand, but I'm sure mangoes, peaches, and any number of other fruits would make a wonderful substitute or addition.
Take the jicama, strawberries, and watermelon and cut them into small cubes, about 1/4 inch. Place in a bowl with the blueberries and mix well. Cut the limes and squeeze the juice (lime zest might make a good addition, too), and add chopped mint leaves, to taste. Mix well, let sit for at least 15 minutes, and serve well chilled.