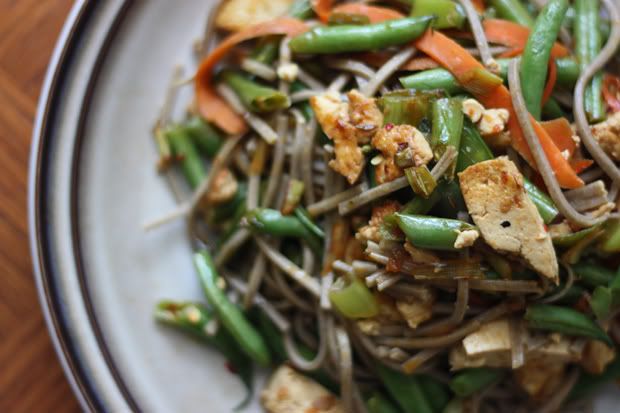 Lately I've been majorly craving tofu, and in an effort to come up with a fresh and easy recipe I ended to creating something I really love: spicy ginger soba noodles with carrots, green beans, and scallions.
It seems like there are a lot of
ingredients
, but it's super easy to make and can be ready in under ten minutes (fifteen if you count the time it takes to boil water)! It's also packed with veggies, protein, and whole grains and has the perfect spicy kick!
You'll need:
1/2 cup extra firm tofu, cubed
Handful of whole wheat sodium-free soba noodles (about a half cup cooked)
1 tablespoon sesame oil
1 tablespoon reduced sodium soy sauce
Small bunch green onions/scallions, chopped
1 large carrot, peeled into thin strips
1 cup green beans, chopped
1/2 tablespoon fresh ground chili paste (I recommend Sambal Oelek)
3 large cubes of ginger
Serves one. For less spice, add only a dash of chili paste.
Bring a large pot of water to boil and add the soba noodles. Cook according to the package instructions. While the noodles are cooking, place the scallions, carrots, green beans, tofu, ginger, sesame oil, soy sauce, and chili paste in a nonstick pan on high heat. Allow to cook for about 7 minutes, adding more sesame oil as needed and stirring occasionally. When the noodles are done cooking, drain the water and add the hot vegetables and tofu. Remove the ginger pieces and serve immediately.