March was a crazy month! I went to Arizona, celebrated my cousin's wedding, went to a few concerts, has Gamma Phi Beta Clue Week, and got into a National Science Foundation summer research program at Savannah State University! Did y'all have a good March?
Three weeks ago, on Friday March 11th, my parents and I visited my Arizona Grandparents and said goodbye, and then my mom, her close friend Ginny, and I went shopping for a dress for Gamma Phi Beta formal. I ended up finding a dress at Macy's for only thirteen bucks, which was super awesome! That night my Great Uncle Rob, my Uncle Jamie, my parents and I went out for a last dinner at a local bar. The best part of the meal was the dessert; a mug of decadent zucchini chocolate cake with ice cream. Yum!
Saturday my mom and I headed back to Atlanta, and when we arrived we met up with my Aunt Darla, Grandma, and cousins Anna, Kelsey, and Amber at Ecco
. I got their amazing

mushroom risotto with fontina val d'aosta

, and for desert I split an olive oil, sea salt, and chocolate ice cream with my mom. On Sunday my family headed over to my cousin Anna's friend's house for Anna's wedding shower. There was tons of good food (including amazing sea salt, caramel, and chocolate cupcakes my cousin Kelsey made), and we had a fun time playing silly wedding games and watching Anna open her presents. For the shower, everyone brought a favorite recipe and one of its ingredients, which was really cute!
That night my mom, sorority family (my big Megan and grandbig Laura), and cousins Kelsey went to Café Intermezzo
for dessert (I got the most amazing chocolate cake EVER). Everyone at the table was a Gamma Phi, which was super cool, and I was glad my families got to meet each other!
On Monday, after class, my whole family went back to Café Intermezzo for lunch. I got a super yummy three cheese and herb omelet, and another tasty chocolate cake (it wasn't as good as the first one, but it was still great!). Golly, we had a lot of food. After lunch I said goodbye to my cousins and aunt, who were headed for Augusta, Georgia, and my mom, grandma, and I ran a few errands for groceries and things for clue week.
On Wednesday I gave my first Emory tour, which was awesome but super terrifying! Then, on Friday, The Boy and I got dinner, watched 30 Rock, attempted (and failed) to go to my friend's 80's party, and called it a night. Saturday morning we got brunch together at Rosebud
, where I got super yummy organic, whole wheat pancakes with vanilla-sage butter and an orange-y syrup. The Boy got The Ultimate Pancake, which is stuffed with local sausage, bacon, and eggs. It was surprisingly good! Then we headed to Target so I could grab my friend Emily a birthday present, and I headed to her twentieth birthday party. The party was a ton of fun; it was a wine and cheese party, and her friend Monica (who is the best cook ever) made loads of amazing food, including a chocolate chip and bacon cake!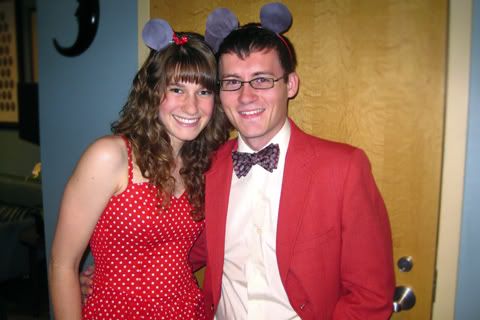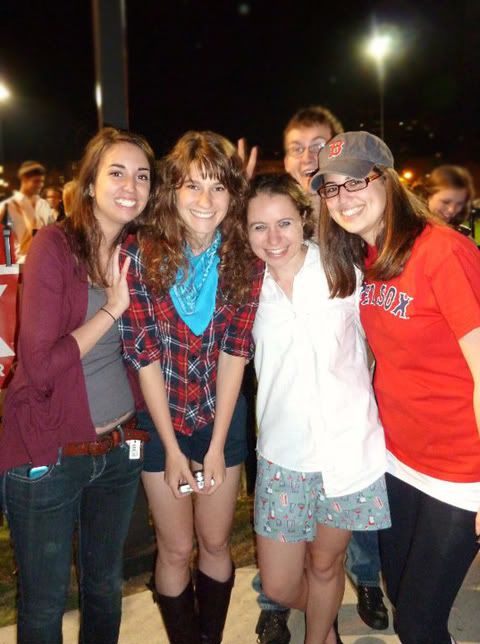 Monday, March 21st, kicked off Dooley's Week, a celebration we have every spring at Emory and which is a ton of fun! Tuesday was a Gamma Phi Beta Date Party. The theme was dynamic duos, and The Boy and I went as Mickey and Minnie Mouse, which was pretty cute! On Thursday Emory hosted OneRepublic, and I went with my friend Rachel to watch them play. It was a ton of fun, and they put on a great show! Friday The Boy, some of his friends, and I went to Dooley's Ball, a big concert that concludes Dooley's Week—I was a cowgirl, and he was a pirate. We were in the front row to watch Milkman, and it was crazy seeing a bunch of my friends dancing around on stage. On Sunday night, my Big, Megan, and I made cupcakes and fudge in her kitchen for Clue Week!
Monday the 28th was the start of Clue Week! Monday was Princess Day, and I gave my Little, Lindsey, homemade cupcakes and a bunch of Disney Princess things, as well as a cute chalk crown and a photobook that said "keep calm and part on". Tuesday was "Party Day" (eeep; it was racy!), which included a decorated margarita glass, feather boa, disco ball, thong, colorful condoms, "champagne" bubbles, caution tape, soda, playboy body lotion, and beads. Wednesday was "Chill Out Night", and The Boy and I hid clues all over campus that kept leading my Little to different locations. At the end of the scavenger hunt my roomie, Sam, was waiting for Lindsey with a basket full of homemade fudge and cookies, lots of chocolate, popcorn, Napoleon Dynamite and The House Bunny, a popcorn bowl, handmade crayons, a coloring book, and a bunch of cute little games, including travel Sorry and a Barrel of Monkeys!
Thursday was "Fun in the Sun" day, and I had my little meet my friend Kyle in the quad. She was armed with water guns, and had to hit him in the (bare) chest while he threw tie-dye water balloons! She made it through without getting very wet, and he gave her a bag with a pail of GPhi sunglasses, spring pencils, bubbles, a flower, a bandana, a reusable bag, sunscreen, a blowup soccer ball, a Frisbee, jump rope, and some other cute little stuff. I also went to a Wiz Kalifa concert at Emory with The Boy, which was fun! Friday was "Gamma Phi Beta Day", and I gave my Little three letter shirts and some old event shirts, Wooden "Gamma Phi" Greek letters, Gamma Phi post its and key chains, Gamma Phi cups, a Gamma Phi pillow, and four picture frames I decorated. I had my Big put it all in her room while Lindsey was in class!
Friday afternoon my class met to help cleanup Water Oak Commons, which is a service project we've worked on for the whole spring semester. It was really great; the campus provided a bunch of mulch and tools, and we removed invasive species, cleaned up trash and plant debris, and lay down the mulch! After that we had Revelation, where the Littles found out who their Bigs are. Lindsey already knew, but it was fun to have her meet some of the Family, and afterwards we all went to The Flying Biscuit, which was super good! I got the orange scented French toast—best food ever. When we got back that night I went to Relay For Life for two hours, where I walked in support of cancer, blow-up-stick fought on a giant blow up arena, and helped sell Oreo balls in support of Relay. It was a blast!
Saturday The Boy and I went to Alon's for lunch, where I got an amazing hot Panini with sundried tomatoes, spinach, olive oil, and cheese. I also tried a "Mexican" coke (aka it's made with real sugar), and the boy and I shared a dessert! After we ate The Boy and I took his dog, Stella, for a walk and I got to take pictures of all the flowers, which was a lot of fun.
steal your heart - augustana