I took this picture in New Jersey in January, and seeing it made me miss home and my family. I'm sick, and I know my mom would be giving me soup and a hug if she were here. What do you miss most about home and family when you're away?

Thursday night Gamma Phi had a date party at Tavern 99 in Buckhead, Atlanta. I brought The Boy, and we went to my fiend Megan's house beforehand to get ready for the event. The venue was split into a DJ section and a portion with a live band, and it was really fun to go back and forth between the two! I ended up having a blast with everyone, and I even enjoyed the dancing!
Oh, and isn't The Boy super classy? I'm pretty sure he's perfected the art of the blazer. Just sayin'.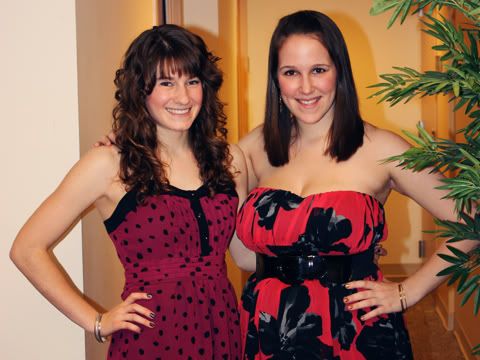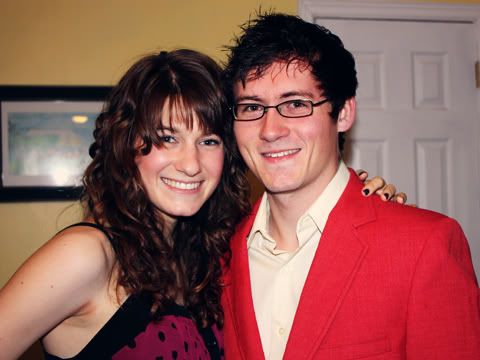 ( dress: Urban Outfitters, heels: Steve Madden, bracelets: Grandmother's )
Friday night my friend Rachael and I made cookies (and a mini cookie cake) in the sorority lodge. We used readymade oatmeal mix, and added a ton of m&m's, chocolate chips, and crasins. After eating far too many, and enticing everyone in sight to have one, we settled down to watch Center Stage (one of my favorite chick flicks), which was awesome.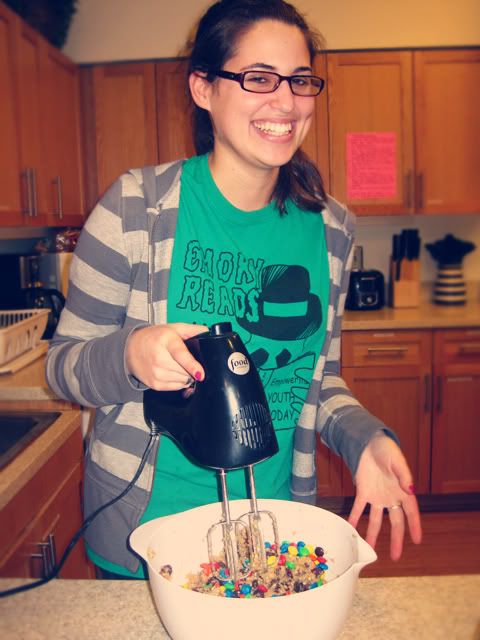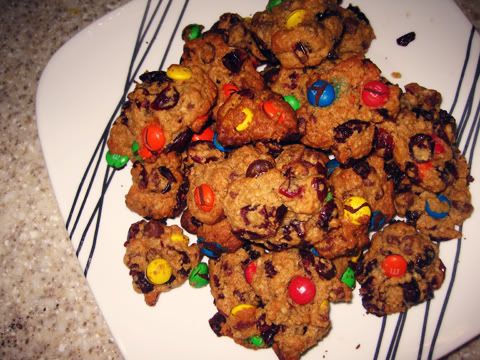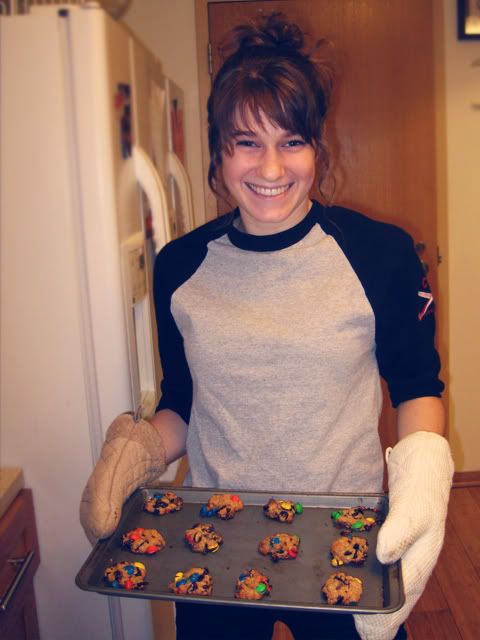 Saturday I woke up super early (7:30 AM!) for my "radical simplicity and environmental sacrifice" class, which had a field trip to Truly Living Well Center Natural Urban Farm at its Wheat Street Garden site. The garden is located in Atlanta on a site where houses used to stand, and the project aims to turn slabs of concrete and lots of open space into raised farm beds, fruit trees, berry bushes, a greenhouse, a compost pile, and a bunch of other ambitious agricultural endeavors.
From 8:30-12:30 my class and some community volunteers helped to clear and compost leaves, shovel, smooth, and prepare the raised beds, chip wood, clear invasive English ivy, and plant garlic. The work was incredibly rewarding, and although it was miserably cold and rainy for the first half of the morning the sun ended up coming out and making the trip wonderful, and I got to meet so many cool people! My professor and one of the students even brought their sons, who had a blast running around finding worms. Afterward I went to my friend Kyle's house with a few people to decorate sugar cookies and play Scattergories, which was awesome!
Sunday night was a blast; my sorority hosted a small Superbowl party, and we all munched on popcorn, homemade cookies, m&m's, and chips and dip whole watching the big game. My favorite commercial by far was this one (yea Star Wars!). Unfortunately, the next morning I woke up with a nasty cough and a major sore throat, and I've been out of commission ever since. Gross. Here's to tea, vitamin C, and sleep!
Oh, and good news! I might have a giveaway in the works! I'll keep y'all posted!
the funeral - band of horses